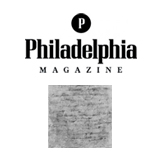 View full article
16 Incredible Art Pieces You Can Buy at Inliquid's Benefit Tomorrow
Philadelphia Magazine, February 5, 2016
By Emily Goulet
Howard Silberthau 'Untitled' Oil on canvas; this "writing" painting is comprised of "made up" German words (German gibberish). Read more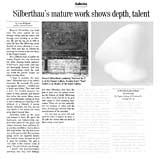 View full article
Silberthau's Mature Work Shows Depth, Talent
Boston Globe. Februrary, 2000
Review by: Cate McQuaid
"Silberthau's large-scale paintings are thoroughly abstract. And they are breathtaking: worth the wait and worth the gamble Pepper has taken showing them."
"It's rare an artist will wait until his work is mature to show it. He gifts the viewer with the thrill of discovering real talent."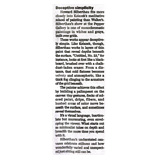 View full article
Abstracts, Landscapes Are Full of Expression
Boston Globe. October 5, 2001
Review by: Cate McQuaid
"It's a visual language, inarticulate but murmuring, even enveloping the viewer. What starts out as minimalist takes on depth and breadth the more time you spend with it."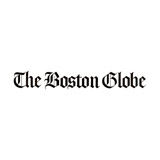 Highlight Of Year's Shows Recall Myriad Artistic Voices
Boston Globe. December 28, 2001
Review by: Cate McQuaid
"Instead of visiting galleries this week I'm revisiting the highlights of the past year... Howard Silberthau's show at the Pepper Gallery was a revelation of lush, often monochromatic abstractions. Silberthau has been painting for years but held off exhibiting his work until he felt it was mature, and his gamble paid off. His paintings played surface against depth the way a thick fog does: You know it goes on, but you only see what's in front of you."